G550 in Iridium Silver with stainless-steel running boards.
Eight inches of ground clearance and suspension travel are part of its legendary capability.
Functional to its Core. Beautiful on any Surface.

From its highly capable underpinnings to its honest, purposeful design, the G550 exudes character in proportions that legitimately earn the term "epic." Its competent, confident 4MATIC All-Wheel Drive system is both highly advanced and deeply rooted in tradition. On slick, paved roads, its 4-wheel Electronic Traction System (4ETS®) automatically sends the torque of its 382-hp V-8 to the wheels with the surest grip -- even if that's only one wheel. As you venture into rough terrain, its three sequentially lockable differentials offer increasingly masterful prowess. On any surface, a 7-speed automatic transmission teams with a 2-speed transfer case to offer the widest, most versatile range of gear ratios of any SUV. No matter how far you explore in a G550, it only gets more beautiful.

G550 in Flint Grey with 18-inch 5-spoke wheels

Crafted by Hand. Untouched by Time.
While its advanced safety systems, Bi-Xenon headlamps and modern luxuries represent the technological standards of today, the 2013 G550 remains steadfast to both its worldly mission and how it comes into to the world. From its rigid, wax-flooded ladder frame to its supple Premium leather upholstery, each G550 is welded, bolted, wired, assembled and finished by hand -- just as it has been for more than 30 years. The reason for doing this is as straightforward as the vehicle itself. Beyond the mere preservation of tradition, it's the origin of a treasured reputation for faithful durability, courageous performance and unfading quality. It's also the likely source for its enduring appeal and enthusiastic following around the world. Three decades of continual engineering refinements have kept the G550 in step with modern life. The devotion with which it comes to life is how it traverses the globe -- and transcends time -- like no other SUV.

G550 in Chestnut/Black Premium leather

Deep strength.
The 382 hp 5.5 liter V-8 of the G550 creates thunderous torque and lightning-quick response. Dual-length intakes and 32 variably timed valves assert the entirety of its 391-lb ft torque peak across a wide range of RPM. Accompanied by the throaty growl of genuine dual sidepipe exhausts, 60 mph arrives in just 6.0 seconds. And with certified ultralow emissions, it leaves little in its tracks beyond an indelible impression.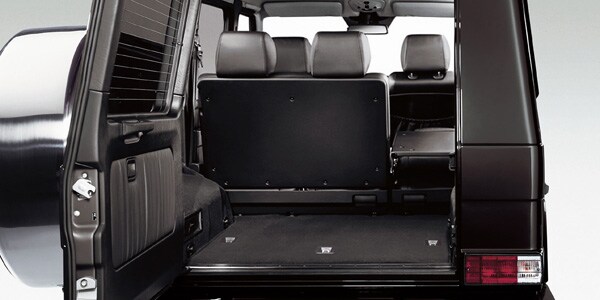 G550 in Obsidian Black with rear-mounted spare tire
Nearly 80 cubic feet of cargo space await behind its single side-hinged rear door.

Wide range.
The ruggedly flexible 7-speed automatic transmission and 2-speed transfer case provide the broadest span of gear ratios in the SUV world. Whether you're climbing, crawling, cruising or chasing, the ideal balance of torque and efficiency is at your command. Adaptive logic paces the shift patterns to your driving style, while the hands-on control of Touch Shift lets you take charge for yourself with a tap of the gearshift.
Conclusion
With its features and dependability, the G550 Sports Utility Vehicle is a capable competitor to the BMW X5, X6 and the Land Rover Range Rover Sport Supercharged. But don't take our word for it, come in for a test-drive and see and feel the real difference here at
Mercedes-Benz of Westminster
.
If you want selection in the Westminster Colorado area,
Mercedes-Benz of Westminster
is the place to look first. Mercedes-Benz of Westminster serving Westminster, Arvada, Berkley, Denver, Lakewood in Colorado is a Mercedes-Benz dealership that takes customer service to the next level. We have
New Mercedes-Benz
and
Pre-Owned inventory
arriving daily, so you are bound to find just what you are looking for here at Mercedes-Benz of Westminster. This Mercedes-Benz dealership's huge selection is replenished often so it gives us an opportunity to make you a customer for life!
Come Visit us today!
10391 Westminster Blvd., Westminster, Colorado