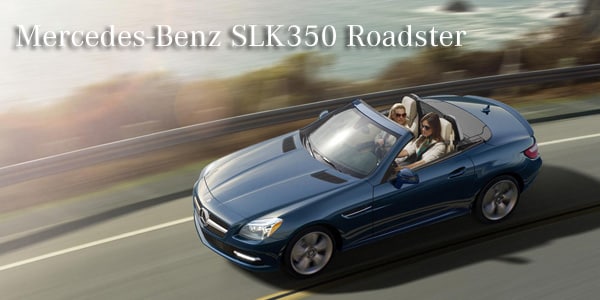 SLK350 in Lunar Blue with Ash/Grey leather and Sport Package
Equally in touch with the winding road below and breezy sky above
A Car Can Transport You. Or Transform You.
All cars are designed to move their occupants, but how many can motivate their driver, shift the seasons, or alter the course of an entire category of automobile? A sports car has never been about merely getting somewhere, but rather going there, intimately bonding its driver to the road below and sky above along the way. Nearly 60 years ago, Mercedes-Benz introduced a new kind of convertible -- the coupe/roadster. With both a detachable hardtop and folding soft top, it ushered in a driving season that no longer ended with the fading summer sun. Four decades later, the first SLK-Class vehicle reimagined that concept with its signature retractable hardtop, and it's repeatedly transformed what's expected of a roadster ever since. For 2013, an entirely new SLK-Class leaps ahead in every measure of a sports car -- from power to poise to passion -- in a way that will move you like never before.
Let it All Out. Take it All In.
The 2013 SLK-Class wastes no time getting down to business. Its retractable hardtop disappears in under 20 seconds, so you can take in the sunshine more swiftly than ever. The advanced all-new 302-hp V-6 of the SLK350 responds even more quickly. Its innovative rapid-multispark ignition fires up to four times in a millisecond. New high-pressure Direct Injection microscopically tunes the fuel spray in as little as 0.1 millisecond. As the gauges reach for the sky, it turns every molecule of fuel and air into the pure elements of performance: 0 to 60 in just 5.4 seconds, along with cleaner emissions and higher efficiency. And as the lowered suspension clings to the earth, you feel both a complete connection -- and total release.

SLK250 Coupe/Roadster.
A new-generation, 201-hp 1.8-liter four in the SLK250 combines numerous advances and an intercooled turbo to deliver 229 lb-ft of peak torque, more than the previous V-6. Its rapid-multispark ignition can fire up to four times per millisecond. New high-pressure Direct Injection can microscopically fine-tune the fuel spray in 0.1 milliseconds, reducing emissions, fuel consumption and noise. A lightweight diecast-alloy block, quicker and more widely variable valve timing, reduced friction, and clever "on-demand" ancillary components like the alternator further boost efficiency.
SLK-Class with Beige leather and Trim package
SLK350 Coupe/Roadster.
The invigoration of a new 302-hp Direct Injection V-6 is matched by a 7-speed automatic transmission with paddle shifters, a sport-tuned suspension and 18" alloy wheels. It races to 60 mph in just 5.4 seconds, yet returns 29 highway mpg.
SLK55 AMG
A handcrafted 5.5-liter V-8 with advanced AMG Cylinder Management delivers 415 hp and 0-60 mph in just 4.5 seconds, along with remarkable efficiency. Paddle-shifts of its 7-speed AMG SPEEDSHIFT transmission occur with lightning speed in any of three driving modes, including a fuel-saving ECO-Start/Stop system. The extensive fitment of specially developed components and performance systems such as a Torque Vectoring Brake feature and 3-stage ESP
®
result in truly inspiring handling to match the power. Competition-bred brakes and 18" wheels set off exclusive bodywork, all wrapped around a cockpit inspired equally by its racing roots and the Mercedes-Benz standard roadster enthusiasm and rich refinement. An optional AMG Handling Package further hones the car's tenacity and talent in corners.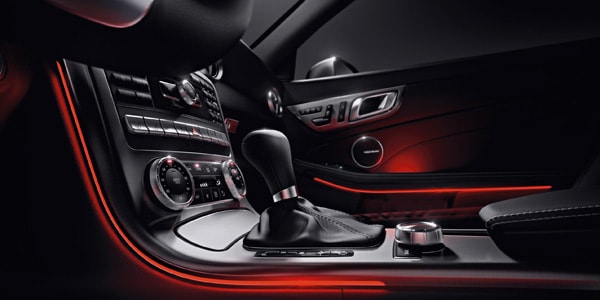 SLK350 Direct ambient lighting in Solar Red
Solar Red LED outlining of the console and door armrests is included in the optional Sport Package.
Conclusion
With their features and dependability, the SLK250, SLK350 and SLK55 AMG are capable competitors to the Chevrolet Corvette and BMW Z4. But don't take our word for it, come in for a test-drive and see and feel the real difference here at Mercedes-Benz of Westminster.
Mercedes-Benz of Westminster
is the place to look first especially for Mercedes-Benz SLK-Class vehicles. Mercedes-Benz of Westminster serving Arvada, Berkley, Denver, Lakewood in Colorado is a Mercedes-Benz dealership that takes customer service to the next level. With an impressive inventory selection we have
New SLK-Class
in stock at Mercedes-Benz of Westminster -- just minutes away from wherever you are. We have
New Mercedes-Benz
and
Pre-Owned inventory
arriving daily, so you are bound to find just what you are looking for here at Mercedes-Benz of Westminster. This Mercedes-Benz dealership's huge selection is replenished often so it gives us an opportunity to make you a customer for life!
Come Visit us today!
10391 Westminster Blvd., Westminster, Colorado