2017 Sprinter 4X4 Cargo Van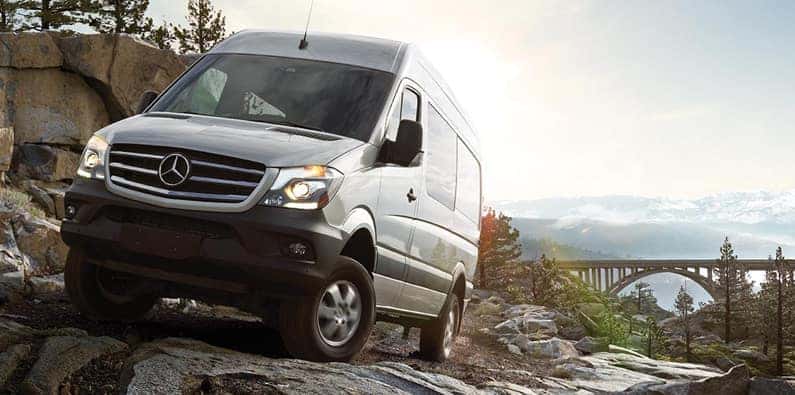 If you are in the market for a high-end van, then look no further than the 2017 Sprinter 4X4 Cargo Van by Mercedes-Benz. It starts at a price of $52,900 and is designed to work just as hard as you do while still providing you with little luxuries along the way. It is available in seven different models so you can find the perfect match for your lifestyle.
Built For All Roads
With the 2017 Sprinter 4X4 Cargo Van, you can really take the road less traveled because it is designed to perform well both on pavement and off. It can handle any terrain including sand, mud, and gravel. It comes with the power to go further so you can get where you need to go. When you are looking for maximum traction on your path, you can use the low-gear differential. This added component will allow you to navigate steep hills, tow heavy loads, and even expertly navigate challenging terrain. The 2017 Sprinter 4X4 Cargo Van comes with Adaptive ESP®4 / 4ETS® that really gives power to the 4×4. It is designed to eliminate the mechanical 4×4 differential locks and generates an advanced traction system. This system will use the brakes selectively on individual wheels as needed which creates increased traction, better road adhesion no matter the weather or terrain, and even better directional stability. It features a payload capacity of up to 2,358 kg (5,199 lbs) and a cargo volume of up to 15 m3 (530 cu ft).
Ample Room and Power for Your Business
When you are searching for a cargo van for your business, you need to make sure that it will meet your cargo needs as well as have the power to keep up with the workload you are expecting. The cargo space of the 2017 Sprinter 4X4 Cargo Van is enough for any business. The interior height is up to 197.6 cm (77.8 in).
The cargo bed length is 349 cm (137.4 in). Altogether, the maximum cargo volume is equal to 9 m3 (319.1 cu ft). There are many different sizes available. You can choose longer bed lengths if needed and you can even add height to the cargo van. You even have the option of choosing between a cargo and passenger model. Whatever you are looking for, you can customize it to meet your needs. Having the space and the build in your work van is not enough. You also need to power to get you from one place to the next and get the job done. The 2017 Sprinter 4X4 Cargo Van features a 3.0L V6 BlueTEC® Diesel engine that has a five speed automatic transmission and brings 188 hp and 325 lb-ft of power. That is more than enough to help you get the job done.
If you are interested in learning more about the 2017 Sprinter 4X4 Cargo Van or taking it for a test drive, be sure to stop by our showroom. We will be happy to help you find the perfect solution for your business needs.