Accessories and Lifestyle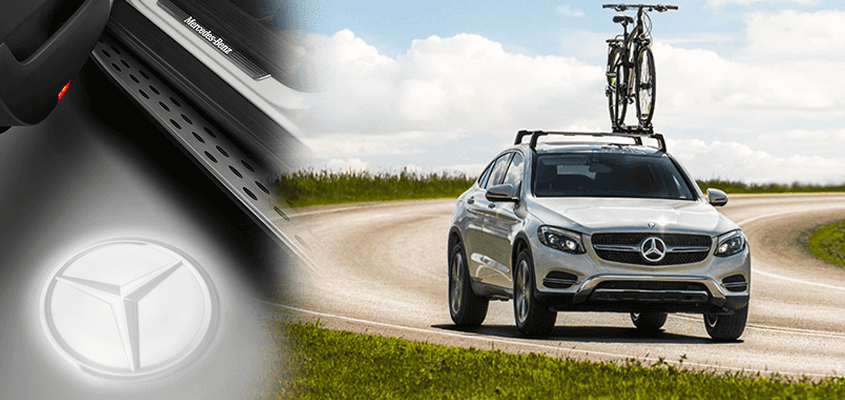 Westminster drivers can make their Mercedes-Benz their own and even enhance the performance of their luxury vehicle with genuine Mercedes-Benz accessories and Mercedes-Benz OEM parts. Take advantage of precision-fit accessories made specifically for each Mercedes-Benz model, and find out more about some of the Mercedes-Benz accessories below. Be sure to come by Mercedes-Benz of Westminster to get precise service at our parts and accessories center.
Common Accessories purchased from Mercedes-Benz of Westminster
We serve our customers on a daily basis with the accessories and parts of their needs – below are some of the common accessories we are installing for our customers weekly at Mercedes-Benz of Westminster.
Bike Racks
Roof Racks
Storage Systems
Wheels
Floor Mats (All season)
Etc.
Exterior Accessories
Then Mercedes-Benz brand is well-known for its legacy of producing elegant and high-performing luxury vehicles. Exterior accessories and OEM Mercedes-Benz parts like carbon fiber accents and spoilers let you enhance the looks and functionality of your model even more:
Illuminated Star with LED and light-conductory technology to light up the front grille logo
Rear and roof spoilers for better aerodynamics
Light-Alloy wheels with a multi-layer paint finish for corrosion protection
Wheel hub inserts with the Mercedes-Benz logo for added style
Cold weather wheel and tire assemblies for better safety over snow and ice
Roof racks and rails for added storage and utility
Roof-mounted carrier systems that require no special tools to install
Interior Accessories
Increase the utility and comfort of your premium Mercedes-Benz interior for the CO roads with leather upholstery and trim upgrades as well as accessories including:
All-season floor mats to easily catch and clean spills, mud and more
Cargo tray to protect the cargo area surface, easy cleaning, and to prevent items from sliding
Cargo box for organizing your trunk and to prevent items from rolling around
Becker® MAP PILOT® for a fully integrated navigation system and advanced voice recognition
In-vehicle hotspot for a speedy and secure internet connection, capacity for up to 4 wireless devices
iPad® Docking Station for rear entertainment with charging and rotation feature, behind front headrests

Lifestyle Collection Boutique
Show your love for the Mercedes-Benz brand with the amazing style of the Lifestyle Collection. Contact Us Today at Mercedes-Benz of Westminster to learn more!