Difference Between Sprinter & Metris Vans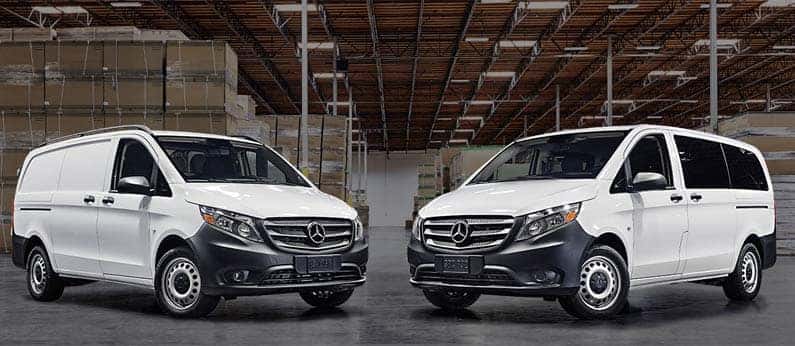 Consumers in and near Westminster who are searching for a reliable and hard-working van will be pleased with the options available from Mercedes-Benz. The brand offers two exciting choices: 2020 Mercedes-Benz Sprinter vans in Westminster and 2020 Mercedes-Benz Merits Vans in Westminster. Knowing the differences in these vans can help you decide which one is the best for your circumstances.
2020 Mercedes-Benz Sprinter vans are noticeable larger than the Metris. The length and wheelbase of the Sprinter are both bigger when compared to the Metris. The height of the Sprinter can be configured to be between 66.5 inches and 78 inches. This means that it could be shorter, taller or the same height as the Metris.
The Sprinter provides cargo space ranging from 111.2 cubic feet to 532.6 cubic feet. This van also offers up to 12 seats.
The cargo space of the Metris ranges from 97.3 cubic feet to 183 cubic feet. It provides seating for eight.
| Mercedes-Benz Vans | Length | Height | Wheelbase | Towing Capacity |
| --- | --- | --- | --- | --- |
| Metris Cargo Van | 202′ | 75′ | 126′ | 5,000 lbs |
| Metris Worker Cargo Van | 202′ | 75′ | 126′ | 5,000 lbs |
| Sprinter Worker Cargo Van | 233′ | 66.5 to 78′ | 111′ to 170′ | 5,000 lbs |
Capabilities
Both the Sprinter and the Metris have a maximum towing capacity of up to 5,000 pounds. Keep in mind that this figure includes whatever you're towing and its contents. In addition, it also includes the van's occupants, gear and anything else in the van.
Both vans also come with a four-cylinder engine. This is paired with a nine-speed automatic transmission in the Sprinter and a seven-speed automatic in the Metris. While the Metris is a rear-wheel-drive vehicle, the Sprinter is a 4×2.
This configuration provides the Sprinter with 188 horsepower and 258 lb-ft of torque. The Metris delivers more horsepower at 208 while retaining the same amount of torque.
With its larger gas tank of 22 gallons, the Sprinter will need to be filled up less often. The Metris has an 18.5-gallon gas tank.
Features
The Sprint offers ABS and airbags as standard options. This van also provides power windows and door locks, a radio and air conditioning as standard equipment.
With the Metris, Mercedes-Benz took a different approach. The company offers a number of different optional packages to make it easier for you to configure the van to meet your needs.
For example, there are a number of diverse packages that can be added to the 2020 Mercedes-Benz Merits van when you purchase it. These can provide comfort features like the Driver Comfort Package, Electrically Adjustable Front Seats and the Premium Interior Package. Numerous safety features can be added thanks to packages like the Blind Spot Assist Package, Lane Keeping Assist, Multi-Function Steering/Premium Display Package, Premium Safety Package and Premium Safety w/Parktronic Package.
Safety and Technology
Mercedes-Benz makes the best in safety and technology available to their drivers. A load-adaptive Electronic Stability Program ensures that all vans can handle the weight without the driver having to do anything extra. Lane-keep assist and blind-spot monitoring give the driver an extra pair of eyes on the road, and automatic high beams ensure that you're seen on the road no matter what. The Metris Cargo Van is also available with parallel parking assist, which can be helpful no matter how skilled a driver you are.
Who Should Buy What
Metris and Sprinter vans both give you space and safety if you're looking for a full-size van. We recommend a Metris Cargo Van for the recreational driver who wants to take a two-month road trip without having to unpack. The Sprinter Worker and Metris Worker vans are both excellent utility vehicles for all commercial hauling needs, but the Sprinter provides more space and comes with more options than the Metris. We recommend the Sprinter Worker Cargo Van to the buyer who has very specific and extensive hauling needs.