Vehicle Lease Return Information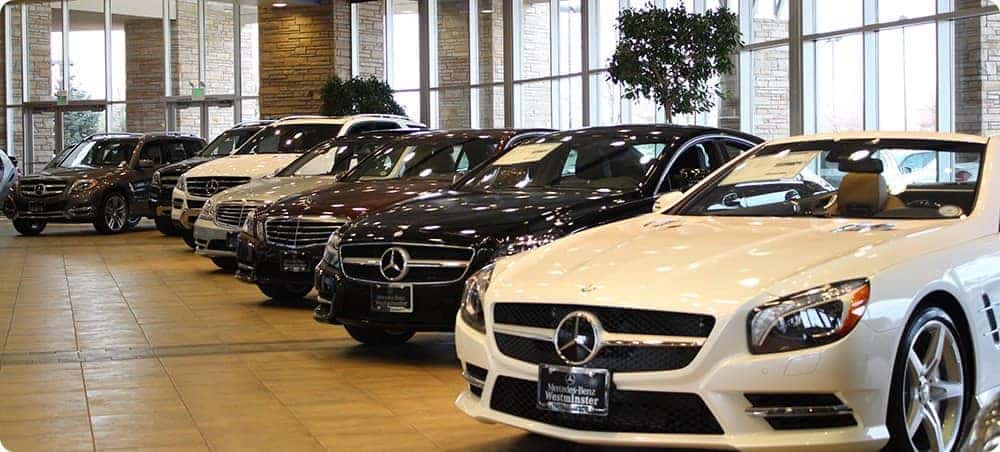 When it's time to return your leased Mercedes-Benz you have options!
We hope you have enjoyed driving your leased Mercedes-Benz and of course we hope you elect to continue driving our brand. The Mercedes-Benz experience is not easily replicated, if you are accustomed to sophisticated luxury and aggressive performance we highly recommend that your next vehicle be one of our exciting Mercedes-Benz models.
To make it easy for you to make that decision, Mercedes-Benz of Westminster offers you options now that you are nearing the end of your lease.
You leased your vehicle rather than purchasing it for a reason.
If leasing is still the optimal method for acquiring a vehicle then we want to introduce you to the Mercedes-Benz "Loyalty Accelerator Plan" which will waive up to five of your existing lease payments if you lease a new Mercedes-Benz.
Options At Mercedes-Benz Lease End
You may be eligible to extend your current lease by up to 12 months.
Lease a new Mercedes-Benz and take advantage of our Loyalty Accelerator Plan.
Purchase your Mercedes-Benz at lease end and get an extended warranty.
Simply return your leased Mercedes Benz to Mercedes-Benz of Westminster (regardless where you originally leased the vehicle from).
---
Tips for returning your leased Mercedes-Benz
Unless you are going to purchase your leased vehicle, you will need to return it to the dealership at the end of your lease. To make that process hassle free please keep these tips in mind:
MB Financial will send a 3rd party vendor to the client's home or office to complete a no charge pre-inspection. This can be arranged by calling 800-873-5471.
Upon receiving the results of the 3rd party inspection the client can review with Sales or Service to take corrective action or utilize Loyalty programs if required.
At lease end you will need to return both sets of keys, all equipment that was issued at the time of the lease (tool kit) and owner's manual.
Electronically sign the Federal Odometer Disclosure Document confirming the mileage on the odometer.
Mercedes-Benz Financial will send a final bill, charges are not due at time of return.
We will prepare and give to you a "Vehicle Return Package" that includes a copy of the Federal Odometer Disclosure Document, the Vehicle Condition Report and your Maturity Bill and hopefully at that point we help you into your new leased or purchased Mercedes-Benz!
---
The Credit Card Test® – Vehicle Condition Guidelines
Helping you determine what is considered damage when inspecting your vehicle's exterior and interior: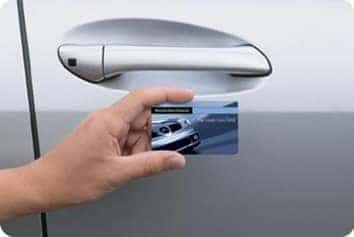 Any scratch through the paint larger than the size of a credit card.(Scratches that do not go through the paint pass The Credit Card Test, regardless of size.)
Any dent that is larger than the size of a credit card.
Any damaged safety items, regardless of size (e.g., torn seat belts).
Collective damage that is caused by a single event, regardless of size (e.g., hail damage).
Any holes, cracks, gouges, tears, or cuts in the sheet metal or bumper, regardless of size
Any tears to the interior larger than the size of a credit card
Examples that DO NOT meet "The Credit Card Test":


---
Windshield, Lights, Wheels and Tires Condition Guidelines
The following are examples of what would NOT meet lease return guidelines when inspecting your vehicle's windshield, lights, wheels, and tires:
Wheels that are cracked or bent.
Wheels that are not those originally equipped with the vehicle at time of delivery.(Upgraded wheels installed by an authorized Mercedes-Benz dealership are acceptable.)
Tires that are the incorrect size, have sidewall damage or exposed cords.(Sidewall damage includes plugs and cuts.)
Glass and lights that have cracks, stars, holes or plugs. (A "star" is a chip with one or more legs. A plug is considered unsafe for vehicles with supplemental restraint systems.) Glass repair is not acceptable.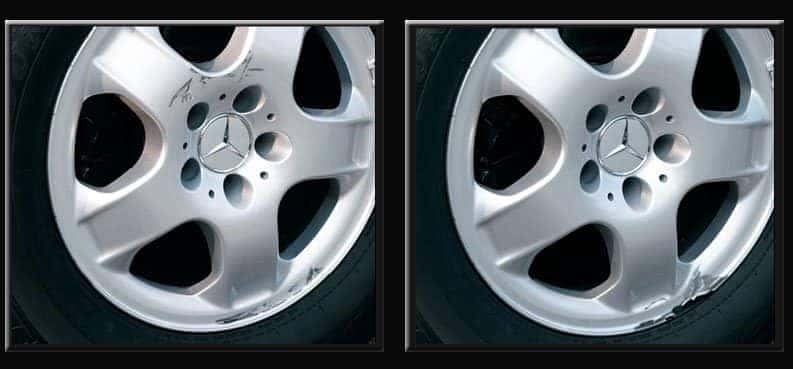 Scuff like the image to the left would meet the guideline / The image on the right would NOT meet the guideline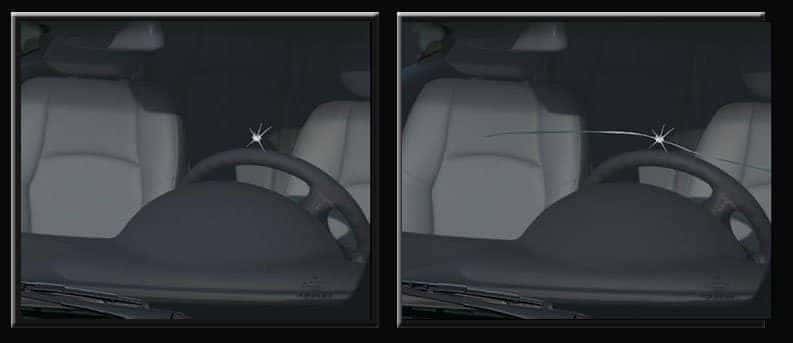 Both images to the left and right would NOT meet the guideline
Note: Windshield replacements are often covered by insurance. Please ask your insurance agent. If you choose to make any replacements after your lease-end inspection, contact the Mercedes-Benz Financial Lease Maturity Department at (303) 410-7800.
If you have any questions regarding your lease return, please do not hesitate to contact us at the dealership.