What You Need to Know About the Mercedes-Benz X-Class Truck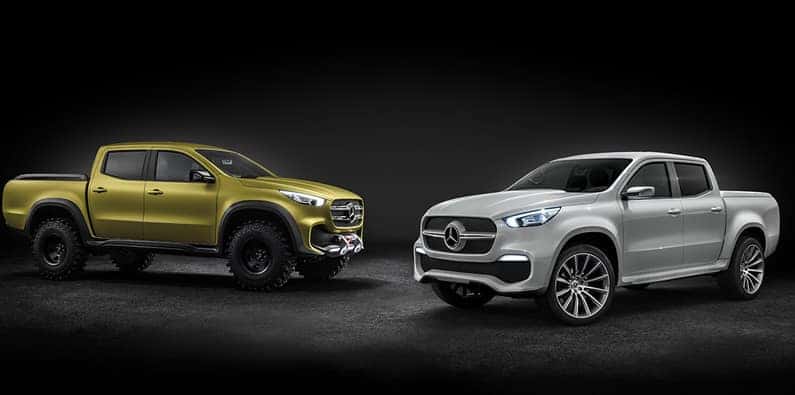 What was once just a rumor has now made its debut. Mercedes-Benz officially unveiled its first pick-up truck ever – the Mercedes X-Class – and it's a sight to behold. The X-Class concept truck, which was showed off at a special meeting in Copenhagen, is stylish and elegant, but its rugged and brawny profile makes this one of the most distinctive Mercedes-Benz releases in years.
Here are a few specs: the X-Class is a mid-sized truck, and features permanent all-wheel-drive, as well as a powerful V6 engine. Plus, the X-Class concept will be available in two trims: One optimized for off-roading (the Powerful Adventurer) and one built for paved road driving called the Stylish Explorer.
Mercedes says the truck will be marketed in Europe and South America in 2017, but no U.S. release date has been set. Upon closer inspection, there's a lot to be excited about with the X-Class, and here are some of the most impressive details.
Mercedes-Benz X-Class Truck: Performance Specs
The Mercedes-Benz X-Class will feature a powerful V6 diesel engine, according to Mercedes execs. Both models will also feature an all-wheel-drive system with an electronic stability and traction system and a transfer case with an accompanying reduction gear.
Overall, Mercedes estimates max payload to be 1.1 ton and max towing capacity of about 3.5 tons, according to a Mercedes press release. In other words, the X-Class isn't designed just for good looks; it's as capable as any mid-sized truck.
Rugged, Elegant Design: The X-Class Exterior
With the release of the X-Class concept, Mercedes has done the impossible. Daimler has designed a truck that's rugged and powerful, but that retains Mercedes-Benz elegant design language.
Mercedes-Benz Explorer
Both models have an imposing 6+ foot height, 22- or 35-inch tires and a bold truck-like front end. The X-Class grille features a chrome crossbar design with an embedded Mercedes star and black mesh background.
The Stylish Explorer version has a more tamed appearance: Elegant 22-inch spoked alloys, a futuristic rear taillamp design, chrome side mirrors and a flared wheel wells.
The Powerful Adventurer, though, has the look of an aggressive off-road-capable truck. The frontend features a chrome electronic winch, and blacked out alloys, black underride bumper guards, and rails on either side of the bed add to its aggressive style. Additionally, 35×11.5 inch wheels and higher ground clearance give the Powerful Adventurer a brawnier stance.
Mercedes-Benz Adventurer
Inside, Mercedes say both will be equipped with innovative technology, including a touchscreen display with smartphone-like controls and advanced driver assistance technologies.
When Will the Mercedes-Benz X-Class Be Available?
Mercedes-Benz did offer timeline details for the truck's release. In Europe, the X-Class will hit showrooms as early as next year, and the truck will be produced in Barcelona. In 2018, a version for South America will come on line in 2018.
Mercedes hasn't offered any hints if the X-Class will make it to North America. But it's likely that will happen sooner than later. In a statement, Mercedes noted that they're considering a premium truck for the U.S. market, and secondly, the automaker has signaled that the X-Class will help them compete in an important segment.
The mid-size truck segment is one of the fastest growing in the industry, and the X-Class will be one of the world's first luxury pickups. And Mercedes-Benz CEO Dieter Zetsche said that the truck would ensure the automaker closed a gap in its line-up.