The Mercedes-Benz AMG® GT R is Built to Perform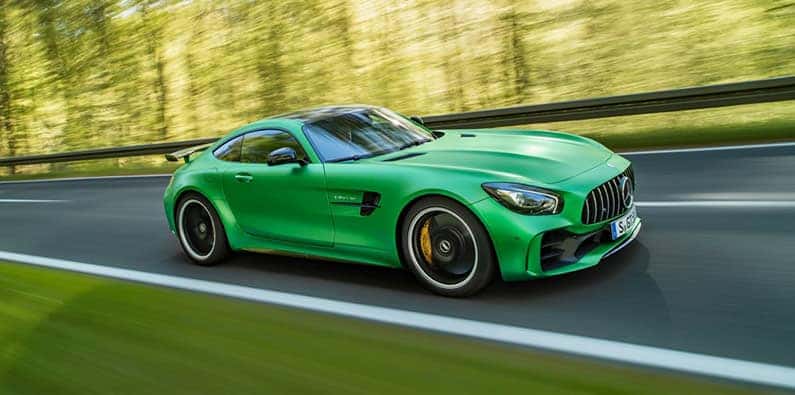 Designed and built to take on the world's most demanding racetracks, the Mercedes AMG® gives birth to the hardcore AMG® GT R.
The first thing you notice is the unorthodox color. The "AMG® Green Hell Magno" refers to the birth and development place of the AMG® GT R; none other than the Nürburgring.
Built To Perform
Inspired by their AMG® GT3 racecar and equipped with a 580hp twin-turbo V8 right behind the front-axle, the AMG® GT R is surely a thing of madness, but don't be fooled into thinking it's just a big muscle car. Mercedes has also extensively modified the suspension and aerodynamics. This, together with an intelligent lightweight construction, turns the AMG® GT R into a track-munching monster.
Mercedes gave the AMG® GT R a wider wheel base for improved handling and overall grip. It now also features active aerodynamics in the front and back, in the form of a front splitter, massive rear wing and double diffuser. Other lovely additions such as rear-wheel steering (a first for AMG®), electronically adjustable coil-overs, 9-way traction control and an electronic LSD have also been thrown in the mix. The twin-turbo 4.0-liter V8 now produces 580hp, 75hp more than the GT S, and produces an amazing 516 lb-ft of torque at just 1900 rpm.
""With the new AMG® GT R, we have reached the next level of driving performance. This road-going sports car with motor-racing genes and innovative technical solutions offers an ultimate driving experience that allows people to feel our motorsport origins in every fiber."
-Tobias Moers, CEO of Mercedes-AMG® GmbH
Another important aspect are the tires. Mercedes has opted to install Michelin Pilot Sport Cups fitted on 20" lightweight forged rims. The AMG® GT R, with its 7-speed double-clutch gearbox, can manage 0-60 mph in only 3.6 seconds and is capable of reaching upwards of 200 mph top speed. Thanks to all this clever engineering and packing, the AMG® GT R exceptionally close to a 50:50 weight distribution, meaning it has some great potential in the bends.
A Bit of Science
More wizardry is present underneath the car, with an almost unseen piece of carbon-fibre in front of the engine, which lowers to approximately 3 inches at around 50 mph, and effectively sucks the car down using something called the Venturi effect (the same bit of science that diffusers are based on). With this added aerodynamic advantage, high-speed stability and agility are greatly improved.
On The Inside
Inside, Mercedes has decided to go all out race car, with extremely light, manually operated, bucket-seats. Yellow seatbelts and gauges with yellow highlights are also available on request.
Also finished in yellow are the carbon brakes, which measure 15 inches discs in the front and 14 inch discs in the back. An even bigger, lighter and higher-performance carbon ceramic option is also available.
"Our sports-car and performance brand AMG® has its roots in motorsport and, ever since its formation, has repeatedly faced up to the competition on the racetrack. These genes are particularly prevalent in the new AMG® GT R. Boasting a wealth of technological innovations, the new top-of-the-range model is proof of the close collaboration between our constructors of racing cars and road-going vehicles," states Professor Thomas Weber, Member of the Board of Management of Daimler AG, responsible for Group Research and Mercedes Benz Cars Development.